Bareboat yatch charter with skipper or without crew for your private cruise in Caribbean from Martinique.
With two helm stations located at the rear of the boat, the Excess 12 offer maximum sensations and join a more marine concept that brings us closer to the sea.
The light and precise helm as well as the opening bimini recall the pleasures of navigation at the helm of a monohull.
The cockpit of this boat is bathed in light thanks to its opening roof. Outside we find the usual surface of the nets between the hulls, so pleasant for sunbathing, as well as its large outdoor table. The hulls benefit from a large volume with the possibility of having a version with three double cabins or four double cabins.
With its completely new line of coachroof, its short nacelle and its larger Pulse Line rig, the Excess 12 brings a breath of fresh air to the world of cruising catamarans.
Live aboard our Excess 12 with :
Technical characteristics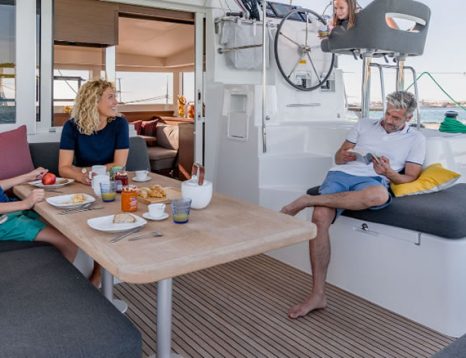 Star Voyage Antilles offers you complete peace of mind and without surprises. You can rent our Excess 12 catamaran as you wish with Bareboat yatch charter or with crew.
– The rental of the boat with its navigation and safety equipment,
– Nautical guide, nautical charts,
– Complete kitchen equipment.
– The tender with outboard motor,
– Bimini, GPS, pilot, navigation unit, MP3 radio, 220V socket,
– Bedding (sheets, pillows, pillowcases, towels, tea towels),
– Fins, masks, snorkels.
Not included in the offer
– Air transport and transfers
– Cleaning (not compulsory except for one-ways)
– Fuel
– Other consumables at the start: HB gasoline, water and gas,
– Food, and fresh food,
– Border taxes
– The deposit (Visa, Master or EuroCard only)
– Options like transfer, skipper, kayak, SUP …
Picture gallery
Discover our Excess 12 catamaran for your cruise in the Grenadines with or without skipper with :
- Cabins : 4
- Bathroom : 4
- Front point fitted out with single berth :1
- Sleeps : 10
- Capacity : water 2x 300 L / diesel 2x 200 L
- Year : 2023  
Quote request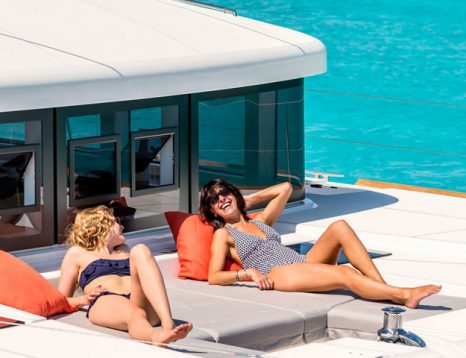 Star Voyage Antilles offers you to enhance your cruise in Caribbean with its à la carte services and options.
We can organize a transfer for you from the airport to our base in Marin:

Consult the prices online [here]
Your driver will be waiting for you in the arrival hall of the airport and will take you to our office in the Marin Marina (distance 30km).

It takes around 2 hours from the moment of landing until arrival at our base.
Your skipper prepares and takes charge of your boat, catamaran or monohull of your choice.
He is responsible for navigation and takes care of customs procedures.
But above all, it makes you discover the best anchorages and places in the islands so that you can make the most of your vacation.
If you have made the choice for a hostess, hotel service on board is guaranteed. Before your arrival she can take care of the supply.
You can either participate in the preparation of the menus, or leave your choice to your hostess.
During the cruise, she mainly takes care of the cooking and can prepare Creole dishes with local products; fish, lobsters, etc.
Rental with or without a hostess, our services offer a personalized supply formula.
Provisioning with crew
You want the services of a hostess:
she can take care of all the preparations,
you can participate in the development of menus,
you have to tell us your food preferences.
Board box

We will establish for you an overall budget (on-board cash register) which covers:
– full board,
– customs fees ("clearances"),
– the consumables of the boat (fuel, fresh water, etc.),
– any mooring costs.
this service is "all inclusive".
Unmanned bunkering

You do not want to contract a hostess :
– you organize your refueling you make your menus.
– you have the possibility of ordering your supplies in advance with delivery on board your boat.
We can provide you with lists but there is also the alternative of ordering by internet from our partner  ww.appro.zagaya.fr
Near the Marin and the marina
– presence of several supermarkets (Champion and Leader Price at 3km, ED at 300m)
Monday to Saturday 8 a.m. to 8 p.m. / Sunday and public holidays 8 a.m. to 12 p.m.
– local market is open every day from 8 a.m. to 1 p.m.
– a minibus service can take you there.
During the cruise with your skipper
– customs duties "clearances",
– expenditure on consumables for the boat (fuel, fresh water, etc.)
– any mooring costs.
Money and cash
– it is desirable to have money in cash,
– around 200 US $ for 8 people for 1 week.
Your vacation will be sporty.
Practices
– navigation,
– swimming,
– diving with fins, mask and snorkel (provided).
Want more ? … and thanks to partners we can offer you
– scuba diving
– sea kayaks
– windsurf boards
But also
In the islands, many diving clubs offer their service (outing, supply of equipment).
If you are a golfer you will find your courses in Saint Lucia, St Vincent and Canouan.
Walks and excursions in the tropical forest are offered in Saint Lucia and Saint Vincent.
For more than 30 years, Star Voyage Antilles has been organizing your stay in Martinique aboard exceptional sailboats.
We can help you discover more than 2,000 kilometers of paradise in the north or south of Martinique with the possibility of one-way.
Your quotation
Excess 12
Free quote
Personalized advice
Tailor-made service
Response within 24 hours
Quote request
Your private cruise in Caribbean from Martinique
Go sailing aboard our Excess 12
Star Voyage Antilles offers several catamaran rental packages
departing from Martinique for your private cruise in the Grenadines and Caribbean.
Rental with crew
Rent your Excess 12 crew from Martinique to sail everywhere in the Grenadines.
All inclusive rental
Rent your Excess 12 catamaran with all our services to sail with peace of mind.
Bareboat yatch charter
Rent your Excess 12 without crew from Martinique to sail anywhere in the Grenadines.