Your cruise in Caribbean in all serenity
Bareboat charter with skipper and hostess
Avec la formule « all-inclusive » *  tous les frais liés au navire et votre croisière sont inclus, sauf l'aérien, les transferts, les excursions…
* caisse de bord
Do you want a skipper and a hostess to take a cruise in the Grenadines?
It is the perfect choice for a holiday of "total rest" in an original context of escape, change of scenery, freedom, all linked to nature and sport.
Whatever your skill level, we offer you a carefree holiday, without responsibility and without stewardship … we offer an "all-inclusive" formula with skipper and hostess.
Do you dream of a vacation in the paradisiacal islands of the Grenadines? the choice of a skipper and a hostess is made for you!
Role of the skipper
He perfectly knows the Caribbean sailing area and thanks to him you will discover the most beautiful places, the best anchorages and the true authenticity of these paradisiacal islands like Mayreau, Tobago Cays, Morpion.
Your skipper takes charge of the boat:
- navigation and
- customs procedures,
- compulsory in the islands outside Martinique.
Our skippers are professionals.
They are perfectly familiar with the operation of our boats and master the environment.
In addition, they are friendly animators, guaranteeing the success of your trip.
You will bear the cost of food and customs taxes for your skipper.
Get your FREE quote !
Role of the hostess
An unforgettable and exceptional experience awaits you - live it with family or a group of friends.
Let yourself be pampered even more with this popular "all inclusive" formula and entrust the organization of food and cooking to a hostess .
She designs the menus using the food preference lists you fill out in advance.
She takes care of the races , an important task that requires experience when going to sea.
During the cruise, she mainly takes care of the cooking by preparing, if you like, Creole dishes with local products: blaff of fish, ferocious avocado , accras, West Indian blood sausage, chicken colombo ...
You embark on your floating hotel to fully experience the Caribbean Sea on your private catamaran. We guarantee you total comfort on board, rest and friendly service .
Get your FREE quote !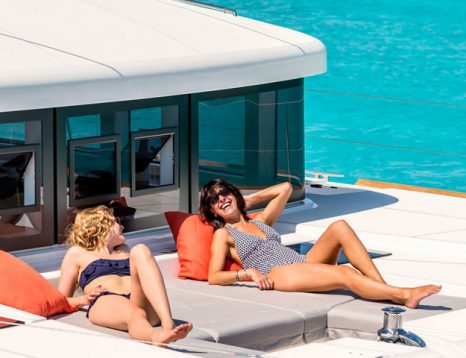 How are your skipper and hostess chosen?
Star Voyage Antilles has an extensive network and offers you a professional skipper.
The choice of skipper depends on your cruise and your points of interest.
Your yacht charter with skipper takes place in a friendly and serene manner.
Our skippers are selected for their:
experience
professionalism
human qualities
adaptability
Your questions about renting a sailboat with a skipper.
choose your sailboat differences between monohull and catamaran
best time to go to the Caribbean
weather in Caribbean
where does the skipper sleep?
 
Enhance your stay with our à la carte options.
airport transport
provisioning
hostess
sporting activities
Cruise in Caribbean with Star Voyage Antilles
Our bareboat charter offers
Disover our monohull or catamaran and our bareboat charter services from Martinique for your cruise in Caribbean.
Bareboat charter with skipper
Your cruise with crew from Martinique to sail everywhere in Caribbean.
Bareboat charter All inclusive
Discover the Antilles with all our services to navigate with confidence from Martinique.
Go sailing in Caribbean
Get your free and personalized offer for your cruise in the Caribbean